I went to the doctor today after sleepless night #3 and feeling "flu-ish".
(I seem to be fine during the day but when it's time for bed, it kicks in).
The room felt like it was literally spinning when I woke up this morning.
The doctor's visit was interesting, to say the least.
After telling the nurse my symptoms, she proceeded to tell me the various tests they were going to run...
flu test, chest x-ray, blood test...
BLOOD TEST?! (gasp!)
Yes, I'm the girl that faints after getting shots or "finger pricks"; esp. after having blood drawn.
It's never good.
Today was no exception.
Lets just say it took me a while to get on my feet.
2 hours of dizziness, 1 cup of water spilled everywhere, 1 cup of Coke, a cookie, a nurse having to call my husband to the back, getting sick to my stomach in front of the nurses and having to use a trash can (embarrassing), a pregnancy scare (don't worry, we're not), my first wheelchair ride, and a couple X-rays later, I was walking out of that place with a diagnosis.
(mild) Bronchitis
&
Sinus Infection
Not cool.
Those poor people probably thought I was the most dramatic person to ever enter a doc in a box.
I promise I'm not.... I just really really reallly hate to have my blood drawn.
And to think... I used to be a nursing major.
(It doesn't take genius to figure out how that could've gone).
Also, I had 6 prescriptions to get filled... SIX!!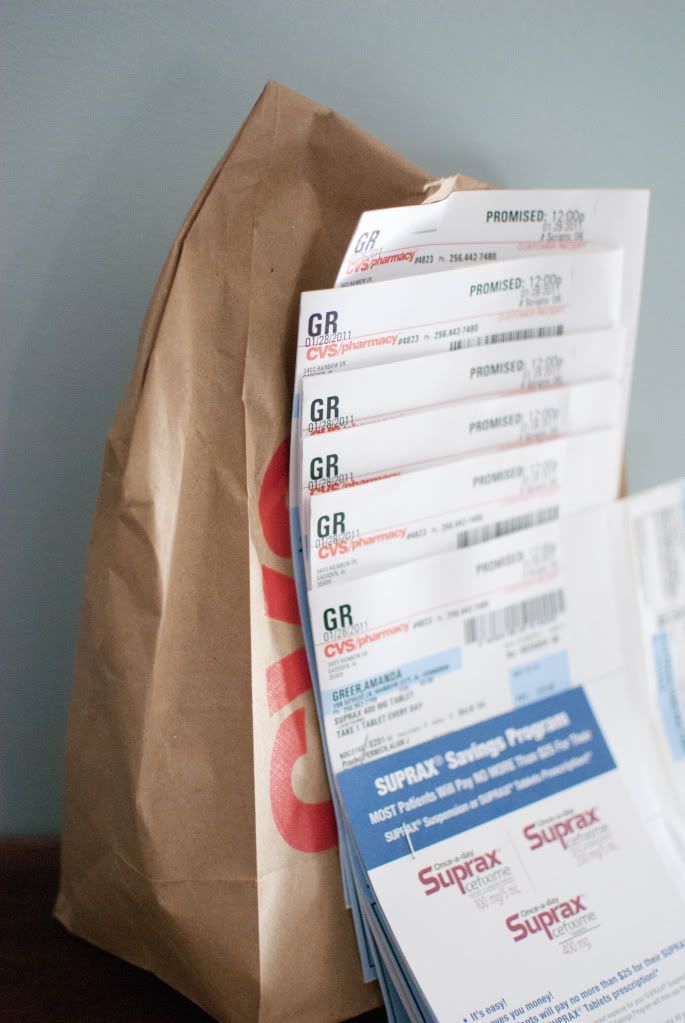 I feel like I'm 80!
Someone buy me a pill box!