Yay for extreme winter weather in Alabama!
School's out, Jordan's off work, there's tons of snow outside, and we stayed up late playing in it.
Yesterday we prepared for power outages by heading to the grocery store and stocking up with food that doesn't have to be cooked. Can you believe they were completely out of bread?! We also borrowed a gas heater (we are all electric) should the power go out.
It didn't!
The snow fell fast, and within a few hours there were 4 1/2 inches on the ground. That's pretty huge for Alabama. We got our bikes out and rode slid in the snow! I haven't seen that much snow in Alabama since '93!!
After fun in the snow, we decided to make snow cream. It's so easy!
In a large bowl, mix together:
1 cup granulated sugar
1 cup milk
1 1/2 tbs. vanilla (some say 2, but I don't like too much vanilla)
8 cups SNOW!
stir! hurry before the snow melts!
Enjoy! :)
Here's what we're going to do on our day off:
1. Play in the snow! Our neighbors are pulling people around on knee boards with a four wheeler. We're going to get in on some of that!
2. Watch our football rival alma mater play for a National Championship against the Oregon Ducks.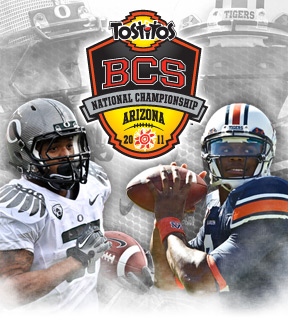 photo: bcsfootball.org
3. Begin
21 Days of Prayer
!
Remember?
We aren't eating out for 21 days, starting
now
! Doesn't look like we could drive anywhere if we wanted to anyways! Thanks to a friend, I'm also looking into joining
e-mealz
. They make eating at home easier by compiling a grocery list, totaling the price of your list (depending on where you shop), and providing easy, quick and yummy recipes (they better be yummy)!
4. Jordan's having fun on the iMac making videos. Here's his first one:
5. Relax, cuddle and drink hot cocoa!!